president of European commission decries attacks on Poles in wake of Brexit vote
Jean-Claude Juncker warns of splits and fragmentation across Europe during state of the union address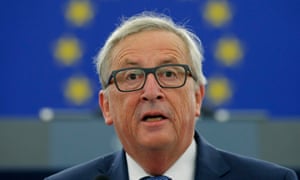 Jean-Claude Juncker, the European commission president, addresses the European parliament in Strasbourg on Wednesday. Photograph: Vincent Kessler/Reuters
The president of the European commission, Jean-Claude Juncker, has condemned attacks on Polish people in the UK in the aftermath of the Brexit vote."We Europeans can never accept Polish workers being beaten up, harassed or even murdered in the streets of Essex," Juncker said in his annual state of the union address to MEPs in Strasbourg. Five Polish people have been attacked in the Essex town of Harlow since the EU referendum, including one man who died from his injuries.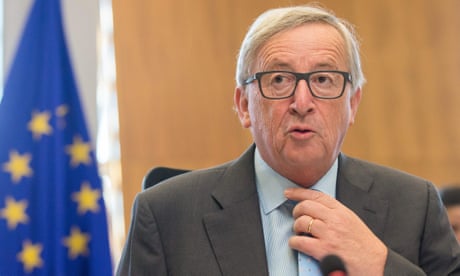 As he set out a series of security and economic measures aimed at uniting Europe in the wake of the Brexit vote, Juncker urged EU member states to take greater responsibility for explaining the value of the European project.
Declaring that the next 12 months would be crucial for the EU, Juncker said a united Europe could only be built if it was better explained and better understood. He highlighted the British referendum as a warning that the EU faces a battle for survival against nationalism.
"The European Union doesn't have enough union," he said. "There are splits out there and often fragmentation exists … That is leaving scope for galloping populism."
40-year-old Arkadiusz Jóźwik died after he was beaten by teenagers in Harlow, about 30 miles north of London, in late August. Essex police said Jóźwik and a second Polish man who survived were apparently the victims of an unprovoked attack. The motive is unknown, but one line of inquiry is the possibility of it being a hate crime.